This post may contain affiliate links to products. As an affiliate, I earn money from qualifying purchases. Please read my full disclosure here.

Do you ever have a hard time buying gifts? Ya'll, I struggle sometimes! In some instances, I feel like I'm copping out if I give a gift card or cash except when buying for teenagers, who are always needing money! Gift cards can be amazing to send in the mail or give when the person you are buying for has — well, everything. And of course they are perfect when people are struggling and need a break financially. But when I'm buying gifts for mom, I feel like it should be personal and say what's on my heart.
I try to spend time thinking about what would be a blessing her. I try to be purposeful in giving even when a gift card would most definitely be easier. You know the kind where you swing through Fred's for a $1 card and throw a gift card in it. Done that. No thought, no care, no consideration — just convenience.
If you struggle with the same things, I'm here to help! This Mother's Day, don't let that be you! Here are some amazing ideas of gift for mom, his mom, or a friend or sister mom!
11 Unique Gifts for Mom for Under $20
Gifts for Coffee & Tea-Loving Moms
If the mom you are buying for is a coffee or tea lover, she'll love one of these unique coffee mugs!
For the mom of littles, this Funny Quotes Coffee Mug: Wiping Noses for Jesus it Legit is absolutely perfect! I'm so thankful that wiping noses for Jesus is legit because otherwise? I've been wasting a lot of time time. I know that's not true because even Jesus said, "Let the little children come to me, and do not hinder them, for the kingdom of heaven belongs to such as these." (Matthew 19:14)
**Can someone give my kids the heads up that Mama needs this one? 😉
For a more serious gift to the mom who loves tea or coffee or for a mom of older children, check out this beautiful Mom Coaster Mug. My favorite part of this mug, other than the coaster/lid feature, is the verse from Proverbs "Her children arise and call her blessed." (Proverbs 31:28)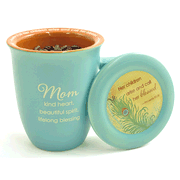 For T-shirt-Wearing Mamas
If you are buying for the mom who collects loves t-shirts, these are great options!
I love this Blessed Mama t-shirt! My kids gave me one very similar a couple of years ago for Mother's Day, and I admit that I was so surprised and overwhelmed at their thoughtfulness! This would be an amazing gift for most any mom!
**HERE are some other really cute and cool t-shirts for the t-shirt loving mom!
For the Jewelry-loving Mom
For the mama who loves pretty jewelry, I've shared before about my favorite little shop around, and it just so happens to be fair trade.
This "Courage Necklace" from Josiah's Blessings would be an amazing gift for that mom who while she does have courage, she doesn't believe herself to have it. You could bless her with a gift that could always remind her that she is, in fact, courageous!
For the mom who loves bracelets either of these would an awesome gift!
The first one is the Wrapped in Love bracelet. Doesn't that sound like a perfect gift for a mom, who is always wrapping others in her love? And the second is the Proverbs 31 Bead Bracelet, in Turquoise, which says "Strength and honour are her clothing and she shall rejoice in time to come." Proverbs 31:25 Even though she may be in the trenches now, she shall rejoice!
Or maybe the mom you are buying for is more of an earring type of gal. Check out these simply cute small bronze cross earrings.
For the Journeling/Writing Mom
Perhaps the mom you are buying for is not a coffee drinker, a jewelry wearer or a t-shirt lover. She might be the planner or writer you know. How about either this adorable She Is Strong Clipboard Gift set or She Is Strong, Journal and Note Pad Gift set?
For the Can't Get Enough Water Mom (okay, or sweet tea)
For the health conscious mom who is counting her daily water intake, this adorable Grace, 20 oz Acrylic Mason Jar w/ Straw is an excellent choice! I just love the colors and 'grace' is a reminder to give ourselves grace every.single.day! We are not perfect, and so we can't expect to be. We strive for Christ-likeness, but we allow ourselves grace when we mess up!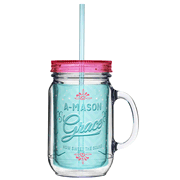 For Any Mom
Any and all moms love a photo of her crew in an adorable frame. If your pocketbook is a little tight, and you want to give a thoughtful and welcomed gift, this is it! The Mom Photo Frame, with Philippians 1:7 is just perfect!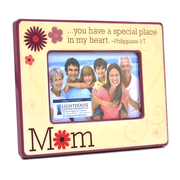 There you have it! A list of gifts for mom that she's sure to love! I admit, that the perfect gift for mom probably doesn't come in a box because the perfect gift, especially for a mom of littles, is this: a break. But, if that's not an option, be sure to check out these unique and inexpensive gifts just for mom!
If you have other awesome ideas, please comment and share. I'd love to have more ideas!